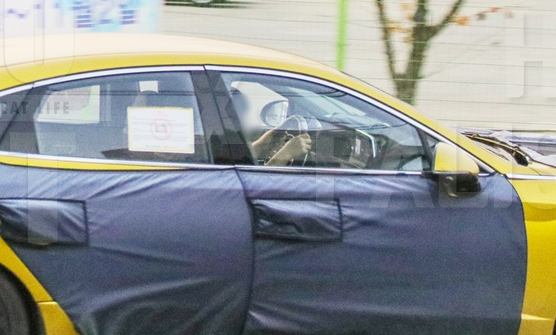 The development of the next-gen Hyundai Sonata continues and new information were confirmed. Hyundai executives have been green-lighted the Sonata N, according to AutoPost, and it's currently under development. Also today we have a small advancement of the interior, showing a floating type infotainment system and a new gold paint.
On this prototype we can see a very pronounced wheel arches as wheel as a body line that it is also prominent, including sideskirts and black finished alloy wheels, so maybe we are in front of the Sport variant or N-Line. The picture of the interior showed a fully disguised dashboard while we can see a industry trend tablet type touchscreen.
With a new wheelbase and a sharper lines, the design of the new Sonata project DN8 is not confirmed, but looking at the pictures we can find a sleeker sedan probably influenced by the design cues of the "Le Fil Rouge" concept car launched at Geneva Motor Show, not sure if will follow what we have seen on the Avante or on the chinese Lafesta.
What we can expect in terms of engines on the Sonata N? Report assumes that will use the 2.0 Turbo GDi with a final output between 250 & 275 hp, but at the same time they talk about a rumour that says the chosen one will be the new Theta-3 2.5-liter Turbo GDi, over 280 hp. New Sonata DN8 production will start on the 15th of March 2019, so we expect to see it at NY Auto Show on April.
Hyundai will follow what Toyota has done, and will extend i40's life until the new Sonata arrives. (Toyota has extended Avensis lifetime until they have killed and now prepares the launch of the Camry directly from U.S).
So yeah, we are going to have the Sonata back in Europe and also in Wagon, that will arrive a year later after the sedan.