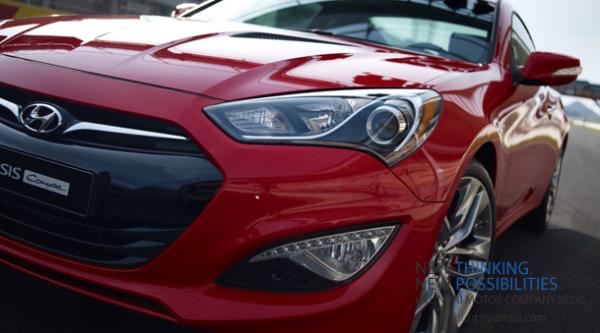 (November 8 ) Updated with first official images.
(November 7) Updated again with new exterior images and information.
Thanks to our friend Pure Adrenalin (gencoupe), we have some new information about the new specs and features (this not a confirmed information, but comes from a very reliable source).
1. Catalunya Copper (think Coupe prototype) exterior paint; others see name and/or slight color changes, as well.
2. Tilt & Telescopic (finally!) steering wheel.
3. Interior color changes (Brown -> Tan; think more red than before; and new grey inserts).
4. All AT versions going to the 8-speed automatic unit.
5. 2.0T will see 260 hp (regular) and 275 hp (premium), preliminary figures. 3.8 V6 will see 340 hp (regular) and 348 hp (premium), again preliminary figures. With a slight MPG bump of +1.
6. Two-stage ESC.
(November 6) Update with new exterior images.
(November 4) Update with new interior and exterior images.
Finally the new 2012 Genesis Coupe has been caught w/o any camouflage and we have it here for your delight, enjoy some of this cellphone pictures. How do you find the new facelift Genny, do you like it or not? let us know on the comments below.